2022
PLEASE NOTE THAT THE AUTUMN TOUR IS NOW FULLY BOOKED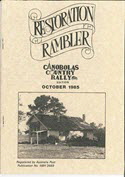 2012
11 October 2012
The ODAMC's 2013 Autumn Tour will be held from 3-5 May 2013 (see our Club Events Calendar)
2011
18 January 2011
The O.D.A.M.C. wishes you all a happy and prosperous new year! We are also pleased to announce that photo submissions have begun and invite you to visit the Club Photo Gallery. Remember that photos of club events are always welcome, and the more information you can include with the pictures, the better! Please keep them coming and thank you to those who have contributed so far.
2010
17 December 2010
The ODAMC's 2011 Autumn Tour will be held from 6-8 May 2011 (see our Club Events Calendar)
The O.D.A.M.C. welcomes you to its new web site for 2010/11. As we get up to speed, the plan is for this site to be a central point where club activities and information are shared with our members and the wider community. We welcome all submissions from our members and hope that other clubs and enthusiasts will drop in and contribute as well.